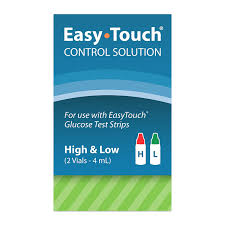 The EasyTouch Hi/Lo Control Solution works in tandem with the EasyTouch Blood Glucose Monitoring System. 

Designed with minute amounts of non-reactive ingredients and food coloring for verifying the accuracy of the The Control Solution test examines the performance of the Glucose Meters, 

Test Strips and your operating techniques. Each Control Solution is provided as a buffered, stabilized, aqueous solution of desired D(+)- glucose containing a preservative and other non-reactive ingredients. 

The solutions are formulated to react equivalently to a whole blood sample containing approximate 50, 110 or 300 mg/dL glucose concentrations. 

Actual lot-specific ranges are printed on the Test Strip bottle label.